If your skin is couperose, you probably know how hard it is to keep it healthy, calm and clear. Having this fuzzy skin type leaves no room for mistakes such as using wrong skincare. I have problems with these intrusive blushes and redness on my cheeks myself and I can tell you that I can't imagine taking care of such skin without a good anti-redness serum. I've already tested a lot of them, actually. In my opinion, there are only a few that deserve recognition. Today I'll present them to you. I invite you to read my list of the best serums for couperose skin!
What can you expect from a serum for couperose skin?
Do you know why a face serum in particular is the essential cosmetic for day-to-day couperose skin care? The point is that this product is simply more potent, thus delivering stronger effects than a regular cream. Moreover, its texture facilitates quicker and deeper penetration through the layers of the skin. And this in turn is how a face serum is able to target redness, spider veins and hypersensitivity. It also builds up skin's resistance to external aggressors that cause irritation. That being said, if you don't use any anti-redness face serum yet, just do it. You won't believe the effects!
Below you'll find the best face serums for couperose skin. Only 3 products that, in my opinion, are worth talking about.
MY OWN RANKING: Best Anti-Redness Face Serums for Couperose Skin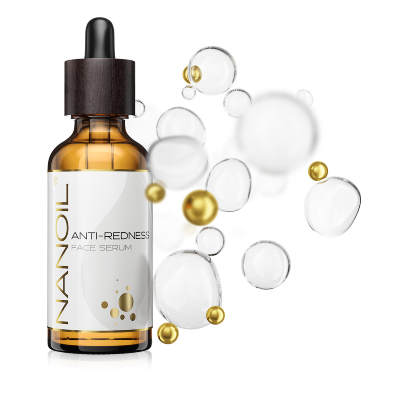 1. Nanoil Anti-Redness Face Serum
Size: 50 ml / 1.69 fl.oz
Nanoil Anti-Redness Face Serum: Ingredients & Effects
I need to admit that the ingredients were what made me reach for this anti-redness serum. Once I learnt that it has four plant-derived substances, I thought that Nanoil Anti-Redness Face Serum must do wonders. Chestnut bark extract, cypress cone extract, lime tree extract and Indian punarnava – all of these ingredients complement each other and make skin calm, brighten facial redness (leave skin even-toned) and prevent spider veins. Moreover, this serum handles inflammation and boosts skin's resistance to prevent irritations and flare-ups in the future. You should also know that this serum supplies skin with nutrients as well. Vegetable glycol is in charge of hydration. The effects are noticeable from the very first use, but obviously the more you use the product, the better-looking your complexion gets. With time my skin becomes less vulnerable to aggressors, so now it's brighter and even. I can't spot any spider veins or redness any longer.
Why do I recommend Nanoil Anti-Redness Face Serum?
To me, Nanoil Anti-Redness Face Serum is simply the best serum that answers all couperose skin needs. By reading the reviews I get the impression that I'm not the only one who loves the effects this serum delivers. Apart from offering an attractive price for 50 ml, Nanoil Anti-Redness Face Serum is also lightweight so you can use it in the morning prior to makeup and/or evening prior to a rich night cream. To sum up, my complexion looks great now! To me, this serum has no equal.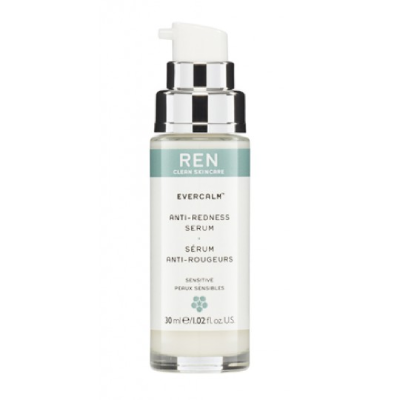 2. REN Skincare Evercalm Redness Serum
Size: 30 m / 1 fl. oz
REN Skincare Evercalm Redness Serum: Ingredients & Effects
Let me present to you a really good serum for couperose skin that is… well… costly. Even though there are cheaper solutions available on the market, I thought that perhaps it's worth spending more if this serum is good and is able to deal with couperose skin problems. The anti-age effect was another reason why I bought REN Skincare Evercalm Redness Serum. After using it for some time I have to admit that for this price I would have other products that work in an exact same way (e.g. Nanoil Anti-Redness Face Serum). I'm not saying that REN Evercalm is a bad serum because it's not. Indeed, it offers a slightly different formula, more creamy texture, it's able to reduce facial redness and soothe irritation. I like its formula because it contains a few really cool ingredients: sea algae extract, vitamin E, milk proteins, rosemary and mountain arnica extract, natural oils (sunflower, soy and lingonberry).
Why do I recommend REN Skincare Evercalm Redness Serum?
I do recommend REN Skincare Evercalm Redness Serum because it works really well. This serum combats redness and brings relief to irritated skin. It's a really decent cosmetic but to me it could cost less.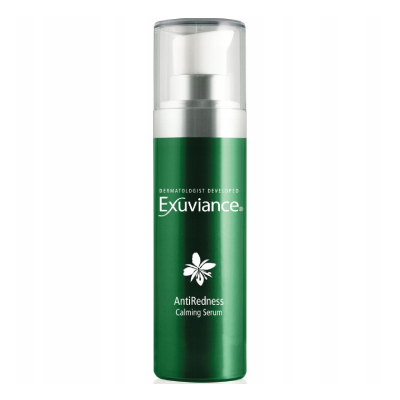 3. Exuviance AntiRedness Calming Serum
Size: 25 g / 1 fl. oz
Exuviance AntiRedness Calming Serum: Ingredients & Effects
Exuviance brought out another amazingly good face serum designed for couperose skin. Those whose skin is prone to spider veins and rosacea should be satisfied with the results this product is able to deliver. The effects are pretty quick. To me Exuviance AntiRedness Calming Serum seems to be a perfect add-in to daily skin treatments, provided that the skin is prone to acne and rosacea. Its texture is lightweight enough for skin to soak it up fully, and once within, the serum combats inflammation and strengthens the walls of capillaries. The formula brims with naturally-derived substances like vitamin C, vitamin E, lactic acid, horse chestnut extract, algae, white tea or licorice, as well as caffeine, peptides and zinc. Sadly, this serum isn't easy on the pocket. Personally, I'm not a fan of overpaying but if you don't mind it, go ahead and get yourself this product – you won't be disappointed.
Why do I recommend Exuviance AntiRedness Calming Serum?
I like Exuviance AntiRedness Calming Serum for delivering the promised results – it handles redness and leaves skin stronger, in general. Still, I believe that it could cost less, especially that the size isn't big.
Do you know or use any serums for couperose skin that are worth reviewing? Do you have your favorite products combating redness? Let me know in the comments section!