Hey girls!
I get many questions about my favorite hair masks. Naturally I constantly test new products but I like to use keratin-rich treatments most often. They work best for my hair and always give me a spectacular look. In today's post I share my TOP 4 keratin masks that my hairdo loves and I'm sure yours will do too. <3
How do I use hair masks?
Before I write about my must-haves, let me tell you exactly how I use them. I'm sure it's a child's play for many of you, but I once learned I'd been doing it all wrong! Now I'm happy to pass on what I've found out. Here's how I use a mask step by step.
I shampoo the hair as usual.
I gently towel-dry the strands. – This is the step I had no idea about while it matters hugely because more product stays in hair not trickling down.
I apply the mask strand by strand, usually from ear length to the tips. – Here, the amount is important. I thought the more the better – I couldn't be more wrong!
I let the product stay in for 10 to 20 minutes and wash it out using cool water. – The temperature really matters. Both too warm or too cold water may greatly harm the hair instead of improving it.
Done! Now let's move on to my favorite hair masks with keratin proteins.
My Beloved Keratin Hair Masks [TOP 4]
[TOP 1]

NANOIL KERATIN HAIR MASK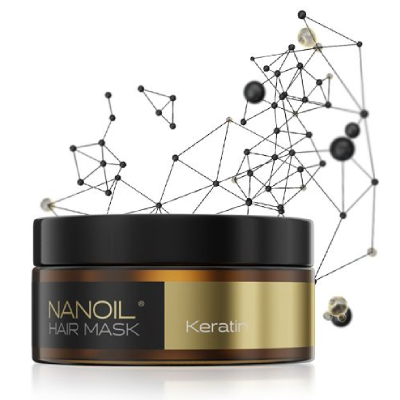 This is a hair mask that my strands love the most. Thanks to the consistency it's super easy to distribute – neither too watery nor too thick. A small amount is enough to cover the hair evenly which makes a jar last very long. I reach for it very often but still can't see the bottom of the jar (it has 300 ml).
As always I attach great importance to the formula. Nanoil offers just several ingredients but they're more than enough. Hydrolyzed keratin comes as one of the first substances in the INCI list, which means the mask holds a large amount of it; it isn't just an addition. Panthenol caught my attention too. It's an amazing moisturizer for my tresses.
I spotted the improvement as soon as I used Nanoil Keratin Mask for the first time. My hair finally got supple and manageable, plus more resilient and less brittle over time. I love the brilliant shine and non-stop smoothness it delivers. Thanks to in-depth repair the product gives, my hair looks healthy and beautiful. It always guarantees a good hair day! At the same time, Nanoil Keratin Mask comes in the biggest package and has an encouraging price too. I order mine on the Internet, or more precisely through www.nanoil.us
[TOP 2]

KERASTASE DISCIPLINE MASKERATINE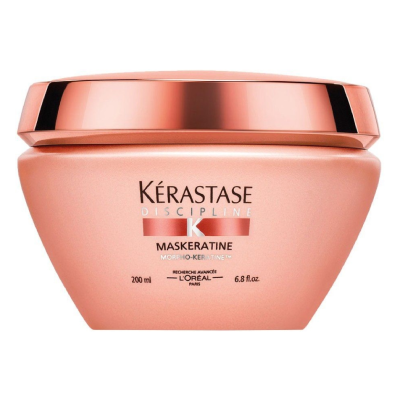 I've loved this mask for many years. It was my number-one but now got replaced by Nanoil. There's a good reason for that: they have similar effects but Nanoil is bigger (300ml vs 200ml) and easier on the pocket. However, I still like to use Kerastase Discipline Maskeratine and it's usually in my bathroom cabinet.
It is creamy and pleasant to apply. Similarly to Nanoil, here also a small amount is enough to cover the strands fully.
Morpho-Keratine complex is a key ingredient that takes credit for most effects like boost of resilience and softness as well as easier styling routine and stopped frizz. Obviously this mask nourishes the hair from within and over time makes the hair look like you just left the hairdresser's.
[TOP 3]

GLOBAL KERATIN LOCK ME COLOR MASQUE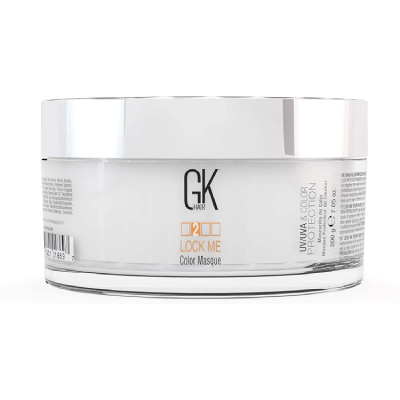 This hair mask is made for colored hair which is often in bad condition. Unfortunately, I don't know how it will work on natural hair color but it may turn out to be effective too.
It holds 200 g and comes in a transparent jar so you can see how much product is left.
What's interesting, this mask works in just 5 minutes which is an express repairing treatment! I like to use it when I don't have time for longer treatments. Global Keratin Lock Me Color Masque can also be used on the scalp. It doesn't cause oil buildup or flatness on my hair.
It is slightly thicker than the previous two and you'll need more product to cover the hair (and optionally scalp) evenly.
This mask is an amazing moisturizer for hair, and additionally, protects from the sunlight. It revives the hair color. I like to use it once a week as a way to protect the color. On other days I choose the other masks.
The manufacturer recommends using it with other products from the range. I tried them all and definitely like this mask the most.
[TOP 4]

LANZA KERATIN HEALING OIL INTENSIVE HAIR MASQUE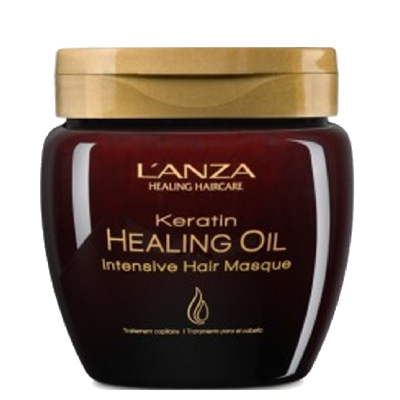 The greatest thing about this mask is the root-lifting effect which makes hair voluminous but also extremely supple. Beyond that, Lanza Keratin Healing Oil has a very nice scent which stays on hair for a long time. That's why I really like to use it. When it comes to deep repair, it doesn't handle it as effectively as the three previous masks. Maybe it requires longer treatment. I'll carry on using it and keep you updated on the effects.
Sometimes it weighs my strands down, which is why it's the last in my round-up.
It comes in an elegant 210-ml jar and has an attractive price. I bought mine online. The prices differ on the Internet and I chose the one shop where it was on special offer.
Do you know these masks or are they new to you?
Share the names of your favorite hair masks by posting a comment. <3