Let me present my latest article from the series: the best products for the natural hair care. This time I prepared a review of the last weeks' favorite. Do you know Nanoil hair oil?
I have been reaching out for natural oils since I found out how many hair benefits they deliver. I fell in love with such a natural support. I love it twice as much as it made my hair grow two times more quickly compared to 'before oiling'. To me, using oils instead of conditioners is like 'hair emergency'.
Why are hair oils worth using?
Nourish, regenerate and strengthen hair in a natural way.
Protect hair from losing water and heat.
Perfect for an intensive treatment as well as finishing touch in styling.
Have the ability to boost hair growth, stop oiliness and thinning.
Obviously, there are more than four benefits you can get after replacing hair conditioners with hair oils. However, I would like to focus on the properties of Nanoil hair oil – this is the product that stole my heart thanks to the action, formula and fragrance. You will also love it. How do I know?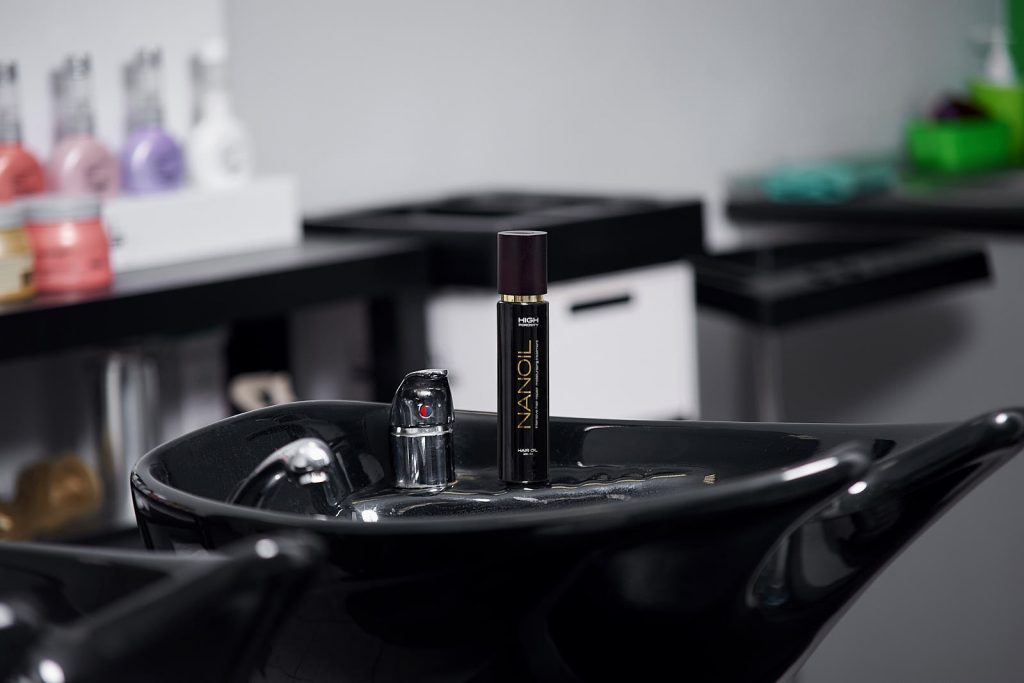 NANOIL is the only oil that matches hair porosity
Fine… what does it mean in practice? If you are not familiar with the topic of porosity, I would recommend reading some online articles; there are lots of them. I am not going to repeat the info that has already been discussed by others. A quick reminder: each hair is made up of a few layers of scales – they define how damaged your hair is and which oils your hairdo needs. Matching an oil to hair porosity is the key element! Low porosity hair (healthy) needs different fatty acids than high porosity hair (damaged). Today, we do not have to waste time thinking about it because Nanoil hair oils were created with consideration to all rules for picking the oil right for the porosity.
There are three versions to choose from:
Nanoil for low porosity hair (rich in saturated acids)
Nanoil for medium porosity hair (contains omega-7 and omega-9 acids)
Nanoil for high porosity hair (includes omega-3 and omega-6 acids)
Which one to pick? Do a hair porosity test available e.g. on the official website of Nanoil (nanoil.us). Trichologist test and studying the hair under the microscope are most reliable yet you do not have to do it. There is also the trial and error method you can use. I went for Nanoil for high porosity hair: ideal for women who have their hair bleached regularly – like I do.
Time for the Nanoil hair oil review. What can I say?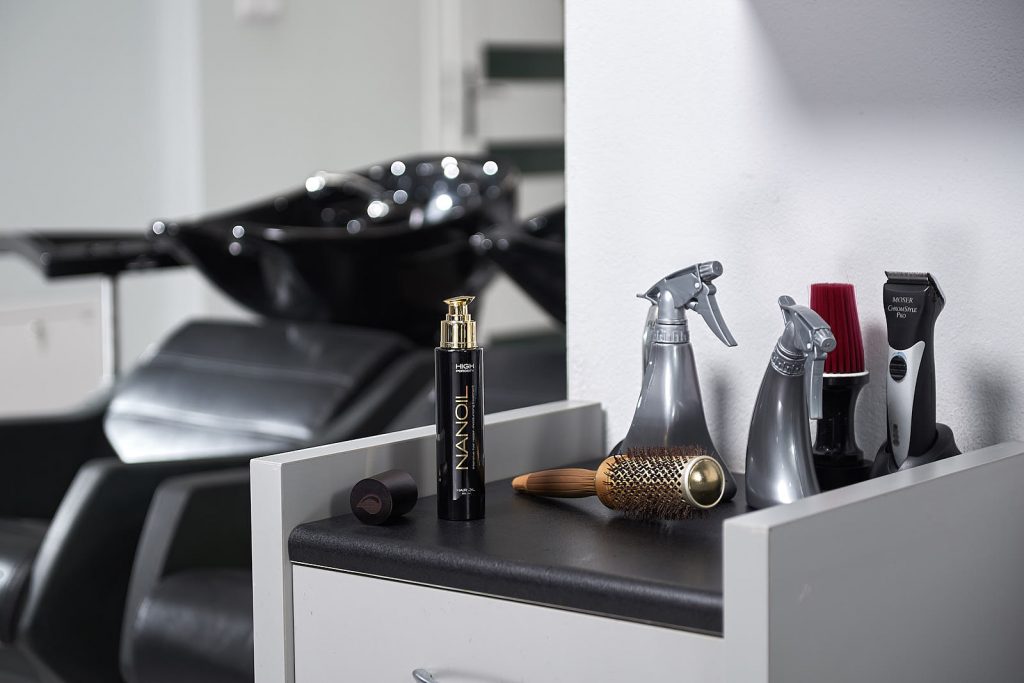 PACKAGING:
Saying it is a stunner is not enough… This product is among the best looking hair oils. Firstly, it comes in a very solid black glass bottle so the content is perfectly protected from e.g. the sunlight. Secondly, the bottle has a cylindric shape, shiny gold pump and wooden eco-friendly cork. Sadly, there are fingerprints visible on the glass; but you just need to wipe it with a tissue and it looks okay.
CONSISTENCY/ FRAGRANCE:
Nanoil hair oil has a characteristic aroma. I have heard opinions that some noses dislike Nanoil 🙂 It is connected with the fact that the oil has been enriched with a natural (not artificial!) fragrance. I am enchanted with this aroma and could smell my hair all the time. The consistency is great as well – not too thick. The formula is velvety and almost immediately absorbed – a huge plus for that.
APPLICATION:
The manufacturer recommends using Nanoil hair oil as an intensive treatment – oil the hair for the whole night or at least an hour before washing. You can rub it on the scalp because it is all-natural, which is a huge asset. The oil must be washed off, especially when you use large quantities. I use Nanoil for a complex overnight oiling yet I discovered it also works when I apply it after washing. Be careful! The amount must be minimal – I take a drop, rub it between palms and scrunch into the damp and washed hair. In this case, there is no need to wash hair again; the small quantity does not weigh down.
EFFECTS OF USING NANOIL:
I guess you are most interested in this part of the review. Does Nanoil hair oil work? What benefits can you expect after using Nanoil? It depends on the choice of the version and if you picked the oil that matches your hair porosity. We must remember that hair can have different porosity throughout its length, which makes the whole thing a bit complicated.
How did Nanoil work for me?
Hair is soft, smooth and bouncy. Nanoil is a hair oil that works as a good-quality silicone serum yet it is safer and the effects last much longer than until the first washing. The oil covers my hair with a silky layer – it smoothes hair surface, makes brushing easier and prevents tangling after the very first use.
Hair grows much faster! This is the effect I love most. Nanoil hair oil reinforces hair bulbs and promotes growth yet not only thanks to the composition of natural oils. Do you know it has been enriched with an innovative complex that stimulates hair growth and inhibits hair thinning? After the very first week, I lost much less hair.
Hair is repaired. Nanoil treatment is really intensive and in-depth which I saw after a few evening oil treatments. It keeps hair well hydrated, rebuilds destruction on its surface, strengthens from within and seals cuticle scales. Result? Less brittle, resistant to damage, healthy and strong hair.
Hair is much easier to style. Regularly used, Nanoil provides my hair with a proper level moisture and elasticity, and closes the scales. As a result, my hairdo is smoother and better shielded. The cosmetic perfectly defines my naturally curly hair. Despite the oil form, it boosts volume without frizz.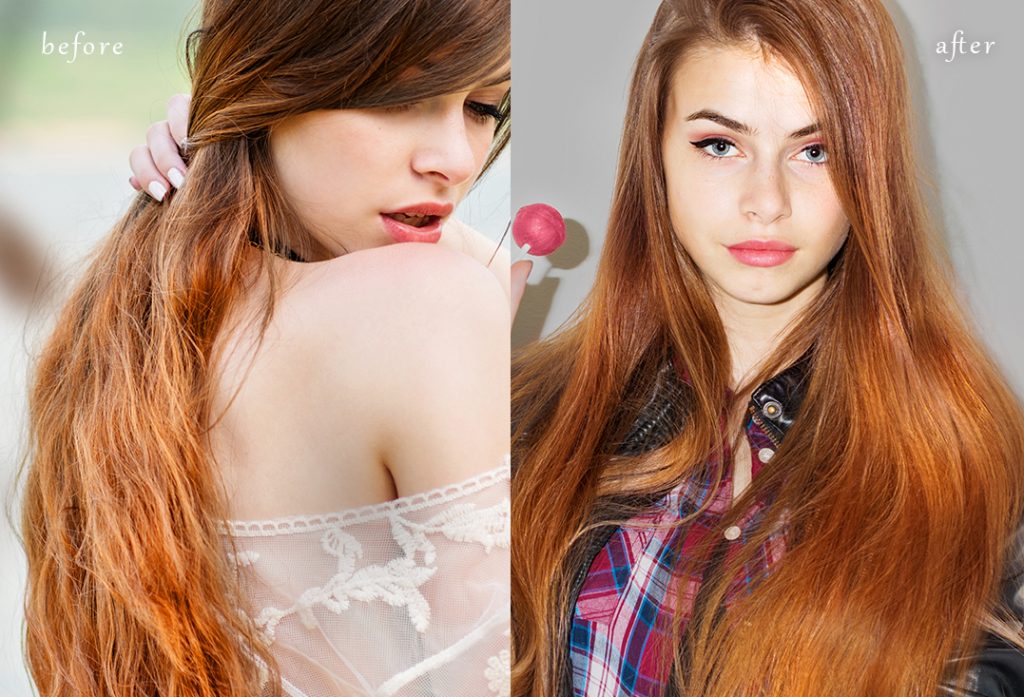 SUMMARY:
The price is quite high and I am not afraid to tell you about it. Mind we pay for the truly brilliant quality. None of Kerastase Elixir Ultime oils can be compared to Nanoil, which is proved by the effects I achieved. The order can be placed online with home delivery – the thing I recommend. You will see that natural does not mean worse. Quite the opposite! And you will see how much better results you get when hair care matches the structure and needs of your hair.