Hey everyone,
Is your hair weak and thinning? Is it matte and, as some would define it, lifeless? To be honest, my hair hasn't been in its best shape recently. It was plain to see that the strands needed something more to retrieve its lost shine. Nanoil hair mask appeared to be this 'something' my hair was craving for. To me, this is a hair care product that just boils with boons. How does Algae Hair Mask by Nanoil work? Feel welcome to read my review.
Algae in hair care. Why are they so important?
I think that most of you would agree with me when I say that hair care products with algae have become fairly popular recently. Why is that? Let me explain this trend to you. Algae are the source of iron that prevents hair brittleness, calcium that is responsible for maintaining hair in a good condition and proteins that make one of the basic hair constituents. Quite a mixture, isn't it?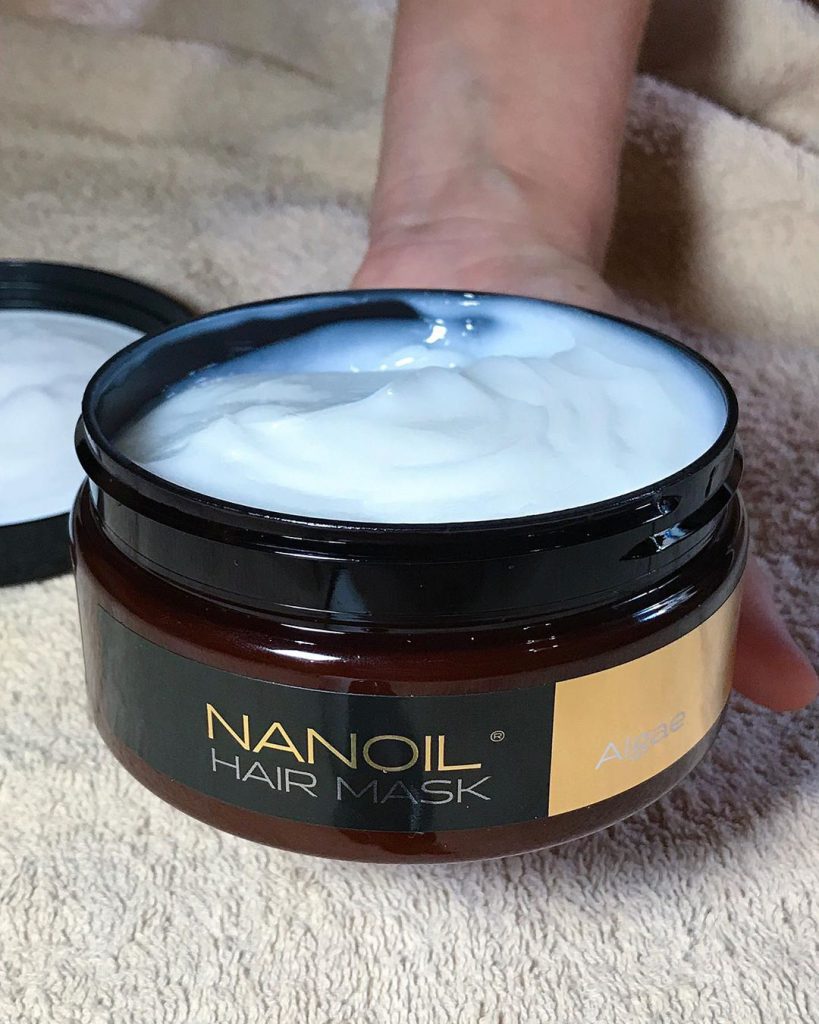 We shouldn't forget about omega 3 acids that nourish, regenerate and protect strands. On the top of that, omega 3 is antibacterial, which makes algae a potent antioxidant. Do you think that this is everything? Nope! Algae are a rich source of hyaluronic acid which is an ally of resilient and well-hydrated hair. What's more, hyaluronic acid helps you tame unruly hair.
As far as I'm concerned, algae work best when they are added to a cosmetics that have rich composition and offer intensive care. Therefore, putting algae extract into Nanoil hair mask is a really good idea! Algae in Nanoil hair mask will make your hair clean, full of shine and naturally fresh.
Apart from the ingredients that I've mentioned earlier, these brilliant algae contains copper, cobalt, zinc and vitamins A, E and C as well as these precious B-group vitamins that hair just adores. Sea algae included in Nanoil hair mask belong to Porphyra Umbilicalis group, which is also known as Nori Extract. These are one of the best algae types that have no equal when it comes to their hair improving abilities. And this isn't my subjective opinion about this algae species because it's been proven by scientific research – you can check this if you want to.
Nori algae is a natural UVA and UVB filter which effectiveness is compared to chemical filters. Algae added to Nanoil hair mask are able to hold water inside the strands which translates into significant moisture boost. Moreover, they have an antioxidative effect, nourish the hair and leave it smoothed.

Roles of algae in Nanoil Hair Mask
UV filter, which is a strong sun protection
Humectant, which means that it improves moisture in hair
Antioxidant, which means that it inhibits oxidation
Substance that leaves hair stronger
Substance that nourishes hair (offers plenty of vitamins and minerals)
Substance that smooths hair out
What are other benefits of using Nanoil Algae Hair Mask?
This is not everything what Nanoil Hair Mask is able to offer you. This hair care product infused with algae contains two extra substances that are essential for hair well-being. They are:
Panthenol – revitalizes, moisturizes, smooths out and improves natural hair defense
Glycerine – facilitates absorption of nourishing substances, moisturizes and leaves hair shiny
How Nanoil Algae Hair Mask affected my hair
It's time to describe how this product really works and how quick the effects are. Let me ensure that the hair improvement can be noticed after first use because this mask smooths hair out and gifts the strands with healthy shine. Another plus of using Nanoil hair mask is that you can see your hair getting more manageable and simply more beautiful 🙂 I guess I can compare this effect to what my hair looks like when I dye it and later apply the protective mask that is always added to the kit – my hair was just perfect. And Nanoil Algae Hair Mask gives me the very same effect. After a few more uses, you will see the hair getting somehow stronger and thicker, which is the effect of deep hydration. Moreover, this hair mask smooths the cuticles out which translates into tamed frizz and easy styling. To sum up, hair is revived, healthy and beautiful. What else could you possibly want?
Comments on Nanoil Algae Hair Mask
I think that you won't be surprised that I'm giving Nanoil Algae Mask the highest rate, which in fact ties in with the positive reviews this hair care product receives from its users, and that I came across on the net. I assume that there is one thing that I haven't mentioned yet – there are more hair masks by Nanoil that you can choose from. Honestly, they all lure me into buying them but I think I'd go for the one with charcoal and silk.
Have you already used some of Nanoil hair masks? I'd love to hear what you think about these hair care products. Let me know in the comments how they affect your hair.
Have a wonderful day!