I like receiving messages from you, when you ask me about remedies for certain beauty-related problems. Recently, I've been flooding me with questions concerning heat protection for hair. This gave me a cue to write a short post – or more of a review, actually – on one of the best heat protection sprays I've ever had a chance to use. It's known as Nanoil Heat Protectant Spray and it's able to do more than just isolate the hair from high temperatures. But first, you need to understand one thing, and this is…
High temperatures and their negative influence on the hair
If you ask any hairdresser to name the most destructive factors that hair must endure, they will give you the following: a color treatment, bleaching and perming. Is this it? Sadly, it isn't. I'm sure that the hairdresser will also tell you that heat styling contributes to brittleness and splitting which is often hard to repair. Actually, this is one of the factors that ravages the hair the most.
Even if thick and strong, hair will eventually give up when exposed to high temperatures on a daily basis, unless you provide it with heat protection. In order to keep your hair safe as you blowdry, straighten or even sunbathe, reach for Nanoil Heat Protectant Spray. With this single product, you won't need to worry about the state of your hair any longer.
Why is Nanoil Heat Protectant Spray the best heat protection I know?
The numbers speak for themselves. If you spray your hair with Nanoil heat protectant, you can set the temperature on your heat styling device on 440°F/220°C and do the hair, causing zero heat damage. That's the first reason. The second one is that Nanoil Heat Protectant Spray nourishes the hair deeply, so the strands start presenting themselves better. Silk proteins the product contains keep hair moisturized and disciplined, which is also good news for those whose hair is prone to frizz.
When you start using this product regularly, you will notice how many benefits it has for hair. Here is what I've noticed so far. Nanoil Heat Protectant Spray
creates a protective barrier to isolate hair from high temps
is perfect at controlling hair, frizz and static
makes creating styles quicker and simpler
adds more shine and smoothness to hair
leaves hair pleasant to the touch
is non-greasy, meaning that it doesn't deprive hair of volume
lasts long and doesn't cost much
supplies hair with nutrients, so it looks better
combines properties of a few hair styling products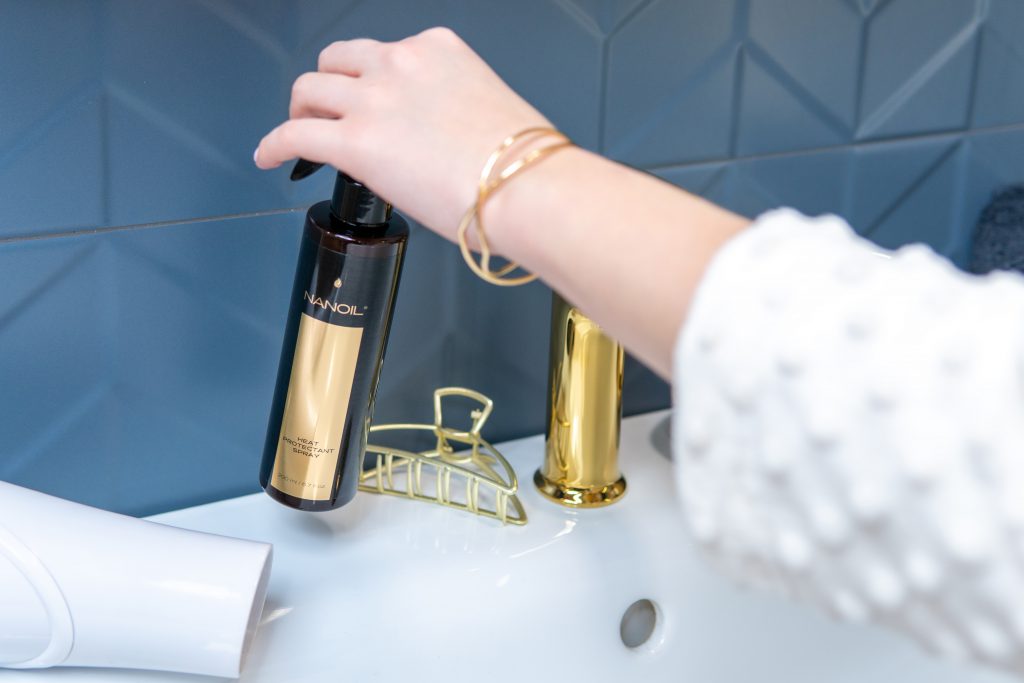 Therefore, if you blowdry your hair often, remember to always protect it from the heat. If you do this with Nanoil Heat Protectant Spray, you can be sure that it creates a protective barrier around your hair and keeps the water inside. No matter if your hair is thick or fine, this Nanoil heat protectant will suit you perfectly.
If you want to give it a try, I'd suggest ordering it from the official Nanoil website nanoil.us because in this way you can be positive that the product you get is original. Let me know if you use any heat protection product, and whether it's Nanoil Heat Protectant Spray. I'd love to learn what you think about it.