Girls,
Please raise your hands if you have or used to have damaged hair.
I can see these imaginary hands. Even I – although I know how to care for hair – made quite a few mistakes, I happened to mistreat my strands so badly that I had to launch a rescue mission. Mostly I reached for cosmetics destined for damaged hair, but each time it was a different product.
Recently I've been trying to bring my hair back to life with Nanoil Keratin Hair Mask and you know what? To me, this is the best hair mask for the deep repair effect!
Naturally I hope that I won't need it again and that my hair will remain so beautiful forever… But if I had to do something to strengthen and repair it again, I certainly wouldn't go for any other product. It's brilliant <3
Want to know more about it? Let's start!
Nanoil Keratin Hair Mask. What's this little marvel?
This is one of the most popular hair masks for frazzled and damaged hair. It's recommended by many beauty bloggers and – what's even more important! – also by hairdressers!
Why do I believe that Nanoil keratin hair mask is the best? Because that is true. Indeed! Actually there are a few reasons why it's worth adding this hair product to your beauty routine, and the most important one is the well-developed formula hidden in an elegant jar.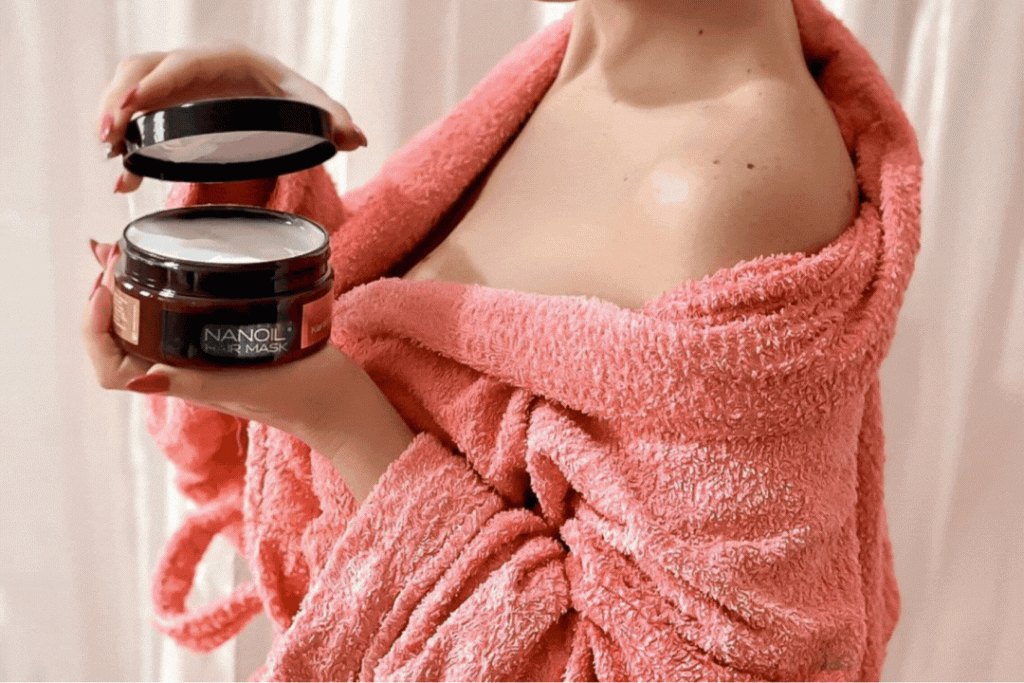 INGREDIENTS – Nanoil Keratin Hair Mask is a simple formula that lacks parabens, phthalates and other weird fillers. The main role is played by liquid keratin that repair damaged spots along the hair shaft, and its effects are amplified by pro vitamin B5, commonly known as panthenol.
COMPOSITION –

This is 100% vegan-friendly hair mask whose production didn't involve any animal testing or animal products. It's lightweight and doesn't leave hair flat, which makes the application pleasant.

EFFECTS –

I haven't come across a more effective deep repair hair mask than Nanoil Keratin Hair Mask. With the very first use it turns frazzled hair into smooth and easy to style strands. What effects can you expect to achieve if you keep using it regularly for a longer period? I'll answer this question below.
In general I think that Nanoil keratin hair mask offers good value for money – it lasts long, delivers desired results, is lightweight and is made up of quality ingredients, and you don't have to spend much to get it.
Hair mask for damaged hair that works!
Let me add a little bit more about the effects because this is the most intriguing issue. How does Nanoil Keratin Hair Mask work on my hair?
I've been using this product for 3.5 weeks now. Naturally, I didn't expect much. I thought "if it works, it works, if not, then not." And I was surprised because I could spot the first effects after single use – my hair became smooth, glossy and easier to comb, which is a huge plus because my strands are hard to detangle after shampooing. It got better with next uses because Nanoil keratin mask:
strengthened and improved the resilience of my hair.
helped me say goodbye to split ends.
reduced brittleness and dryness of strands.
left my hair shiny and smooth.
dealt with frizzy wisps.
After a dozen of hair products that worked only in theory, or on the label, discovering Nanoil Keratin Hair Mask was a nice change for me. You know what, just give it a try and see for yourself!
Application of Nanoil keratin hair mask
Finally, a few words concerning application of a Nanoil hair mask – not only the keratin-infused one, but also any of the five available in Nanoil offer. If you want to learn other Nanoil hair masks, visit nanoil.us.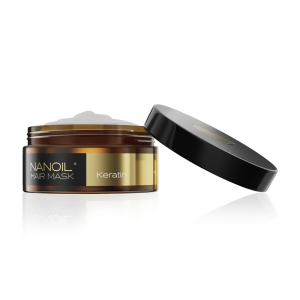 I rake the mask throughout my hair after every shampooing, which is every 3-4 days. If you wash your hair every day, you can apply the keratin mask every day, or every other washing. I like the fact that you can use this product when you want to. When the hair is clean, I squeeze out excess water and spread a portion of Nanoil mask to damp hair, from root to tips. I distribute it evenly, running my fingers along the strands. I let it sit for 15 minutes minimum to give keratin enough time to penetrate the hair and do what it's supposed to do. You can rinse mask residues out after 15 minutes and style the hair like you do it normally. I like letting my hair air dry but if you fancy using a hair dryer, go ahead.
To me this is one of the easiest and most convenient ways to repair hair.
Let me know in the comments if you know and use Nanoil hair masks. If you do, tell me if you are satisfied with the effects. I'm truly curious!