I'm sure you know this saying "good at everything, great at nothing". Without doubts, this isn't true about aloe vera which is a skin-care jewel and a must-have in my beauty case. I treat my hair with natural oils and love them but my skin is flawless thanks to aloe and a game-changing serum enriched with it. Hope you'll like my review of Nanoil Aloe & White Tea Face Serum.
Aloe is good at everything. Is it really?
It's been proven plenty of times. Aloe vera is a beauty-enhancing master. It is high in elements including copper, zinc, chromium, iron, sodium, calcium and magnesium (participating in metabolic process), amino acids, vitamins (A, B, C, E), enzymes, compounds that inhibit oxidation, moisturizers (e.g. mucopolysaccharides) and ingredients essential for young skin, regulating the function of sebum glands and reducing acne breakouts (e.g. salicylic acid). This unbelievable diversity of substances makes aloe a perfect, all-purpose cosmetic.
Very few plants are as multi-purpose as aloe vera. Hands down it can be used by EVERYBODY, that is people with dry, aging, dehydrated, oily, acne skins; it treats skin pores that tend to get clogged, and actually fixes any type of skin problem. Aloe is great at soothing skin irritations, sunburns, frostbites, scrapes… It remedies eczema and helps AD sufferers. Above all, aloe maintains optimal level of moisture in skin, which matters a lot!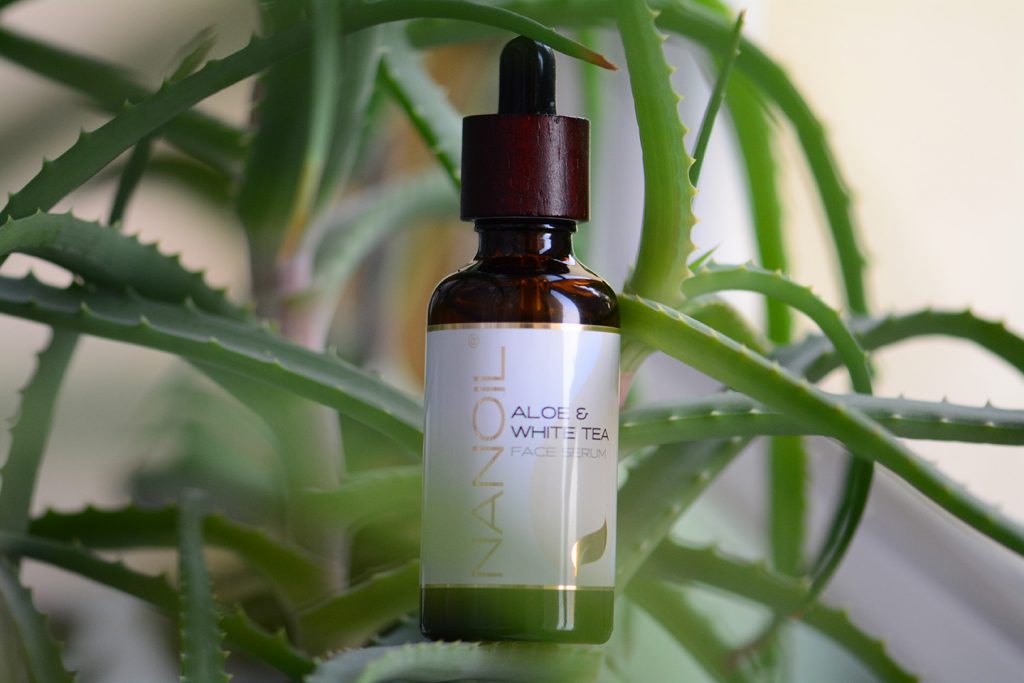 Optimal level of moisture – why it is so important?
Aloe is a humectant. A moisturizer. It fulfils this role masterfully. This skill makes aloe an effective moisture-boosting agent. You should pair it with an emollient to create the so-called occlusive layer on the skin. That is why SERUM is the best carrier of aloe and you must always apply it BEFORE MOISTURIZER. This way your aloe-based serum is covered by an emollient layer locking in water and not letting moisture escape. You can also pair aloe serum with a natural oil – I like to combine them and love this duo. Which aloe serum is the best? I've got a favorite and to me it works like no other serum – aloe and white tea face serum. A perfect match for young and flawless skin.
Nanoil Aloe & White Tea Face Serum – benefits, effects, description
I'm not going to bore you with lengthy paragraph on the effects. I think the before-and-after description of my face skin will convince you. My skin used to be hypersensitive, spotty, not too smooth, looking dull and sallow after winter. I bought aloe serum merely to moisturize it and give it some vitality.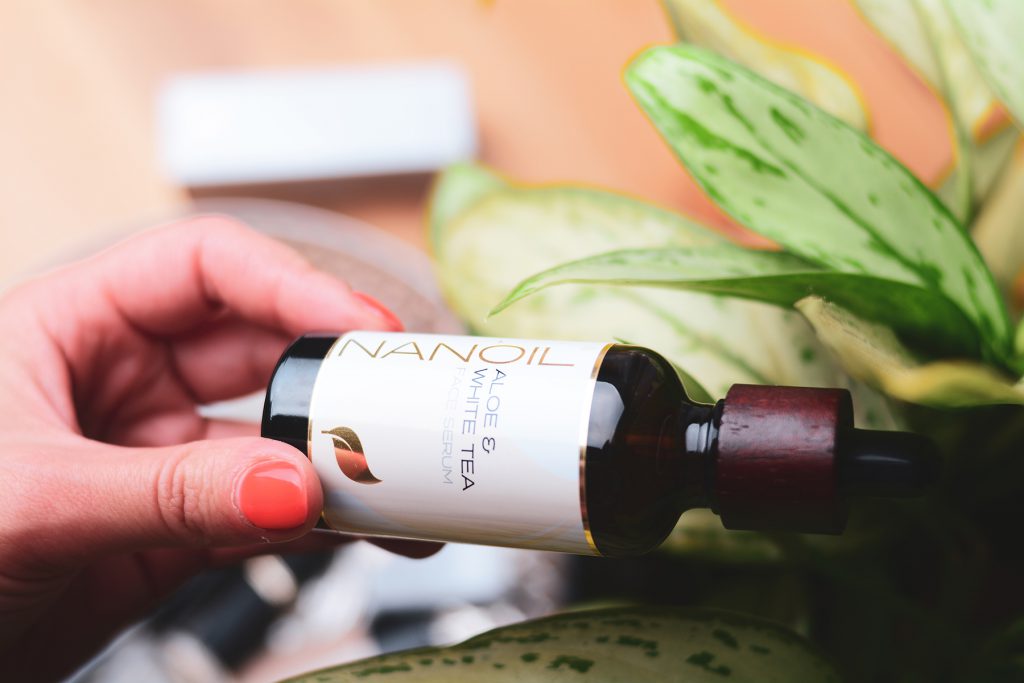 I started using it a month ago or so. What Nanoil did to my skin went beyond my expectations. Nanoil Aloe & White Tea Face Serum is an ideal cosmetic. As I've said earlier, I use it together with a moisturizer (now it's Yves Rocher). After I used Nanoil Serum for the first time, my skin looked hydrated, smooth, rested and radiant. After a few weeks the skin changed completely, as if I had facials done regularly: total skin renewal, even skin tone and bounce. I'm pleasantly surprised. Obviously the serum moisturizes the skin as well.
To me it's the best face serum for every skin type, no matter your age or problem. It gives amazing effects and fulfils plenty of purposes. Are you familiar with Nanoil products? Have you tried aloe and antioxidant white tea serum? White tea extract protects the skin from pollution and other city-related hazards. City dwellers, try the power of Nanoil Aloe & White Tea Serum!